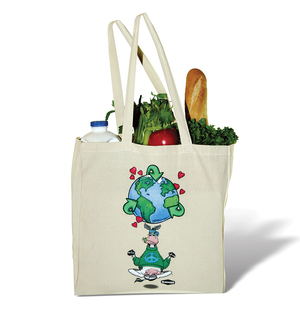 Reusable Canvas Tote Shopping Bag | 100% Canvas-Cotton | Namooste Yoga Cow Loves Recycling
Sale price Price $17.00 Regular price Unit price / per
FREE Shipping in USA
Invest in our Reusable Eco-Friendly 100% Cotton/Canvas shopping tote bag. Great for using at the grocery store and other shopping to promote avoiding single-use plastics. 
Our washable natural colored canvas contains our playful Yoga Hippie Cow meditating on recycling and loving the earth. This bag has a gusset in the bottom 7 X 14.5 to make it easier for carrying your larger containers and fitting more items. The overall measurements are 14.5" wide X 15.5" long X 7" deep. 
The handles measure  26" which is great for fitting under your arms as well as carrying it with an extended arm. The weight is 4.1 oz. Our design is on one side. Order your canvas tote bag today and spread your love for recycling, plant sustainability, planet love, animal love, and positivity.